Patch 1.06 Elden Ring update includes dozens of minor adjustments. Improvements to the way summoning functions are by far the most significant, but there have also been an Elden Ring update to adjust the missions, attack speeds, and bug fixes.
These changes might not reduce the number of times you die, but they should at least make your deaths feel more balanced. The Elden Ring update patch notes say the biggest change is the ability to send summoning signs to remote summoning pools.
This Elden Ring update is described as "the ability to transmit summoning signs." You should now be able to summon gamers to your cause from further away than before. Previously, it was difficult to find a co-op partner to aid when you were in calmer sections of the globe.
This isn't the case anymore. Mask Varre questline no longer requires a multiplayer invasion to continue. Instead, you must now defeat "a new NPC" to go forward. This is helpful if you intend to go through the full game on your own.
There is a list of changes that have been made to the game's balance that affect players who wield Greatswords, Curved Greatswords, or Great Hammers.
The majority of these changes are intended to make attack speeds faster, increase the size of hitboxes, and decrease the amount of time that passes after an attack before players are able to roll.
All of these Elden ring updates appear to be rebalances designed to make the weapons in question more responsive and usable.
Additional elements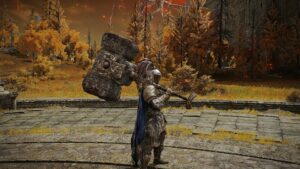 In the recent Elden Ring update the capability to transmit summoning signs to summoning pools located in numerous locations has been added. The summoning pools in "Mogwyn Palace" will not be accessible when sending a co-op sign to distant regions that have this feature.
The functionality to invade a greater region, including more remote locations, has been added.
In addition to taking part in a multiplayer invasion, a new non-player character that must be vanquished in order to continue White Mask Varre's questline.
Shifts in the Balance has been added in this Elden Ring update
The Greatsword, the Curved Greatsword, and the Great Hammer all received the following buffs and balance changes. In the new elden ring update the time has been reduced following an assault for rolling (Jump attack, dual wield attack, and attacks while mounted not included).
In the recent Elden Ring update movement speed of powerful strikes and charge attacks has been increased (mounted attacks not incuded)l. The movement speed of the Guard Counter has been increased.
The rate of attack of Great Axes has been sped up, and the amount of time required for movement to become feasible after an attack.
When the player is carrying a modest equipment load, they have a greater rolling distance.
The hitbox of the weapon skill "Unblockable Blade" that Cipher Pata uses has been increased in the recent Elden Ring update as well.
The "Glintstone Pebble" and "Glintstone Dart" projectiles that Ash of War fires have, had their ranges expanded, but their damaging and staggering effects have been scaled down.
Last but not least, there is a comprehensive list of bug fixes. Some of them made the game simpler, such as the correction of an issue where wearing the "Deathbed Dress" would make you more easily spotted by foes, even when crouching.
This was an issue that needed to be fixed. Others are unnecessarily ambiguous, such as "fixed an issue that causes certain foes to have improper graphics and behavior." Because this version focuses mostly on bug repairs, you shouldn't anticipate any significant Elden Ring updates from it.
Nevertheless, it will enrich the overall good gaming experience and bring joy to the participants. When it initially launches, every game has certain issues that need to be fixed. Because of this, the game continues to be improved by the development company. So, here's everything that's changed in the latest version 1.06 update to the Elden Ring.
FAQ
When will the next
Elden Ring update come?
The date of the next update to the Elden Ring has not been declared, but fans should anticipate that it will be made available at some point in the not-too-distant future.
How to update Elden's ring?
The Elden Ring experience is always being refined, and new possibilities and challenges are being introduced to players with each new release. The following is a list of suggestions on how to maintain a competitive edge in your game:
Make frequent visits to the Elden Ring website to stay up to date on the latest developments.

If you want to see the newest gameplay footage and read the

elden ring update patch notes

, subscribe to the Elden Ring channel on YouTube.

For the most up-to-date information and announcements, follow Elden Ring on social media platforms such as Twitter, Facebook, and Instagram.

Communicate with other players and receive help with technical issues by joining the Elden Ring Discord server.

As soon as a new Elden Ring update is made available, make sure you download and install it.

While you are playing, if you come across any problems or defects, be sure to submit them to the official bug tracker for Elden Ring.
By adhering to these procedures, you can ensure that you are constantly playing the most recent version of Elden Ring and that you are ready to take on any new challenges that the game throws at you! Also please check out Elden Ring walkthrough guide, Elden Ring weapons guide, Elden Ring staff guide to help on your journey with this update.
Please follow and like us: