If you are a gamer or someone who is always at the keyboard, you might consider buying a keyboard wrist pad. As you type for hours on end, wrist rests prevent you from putting undue pressure on your hands and wrists. According to some physicians, keyboard wrist pads may also relieve carpal tunnel syndrome and other finger and hand discomfort.
A keyboard wrist pad is rarely considered while assembling the optimal gaming setup. They are neither fascinating and dazzling like a new mouse or keyboard, nor essential like a desk or office chair. The fact is that people are spending more time sitting around than ever before. Long periods spent in front of a computer screen, whether for a job or enjoyment, can have adverse effects on our health. This article examines the most effective keyboard wrist pads for gaming and for mitigating some of the dangers. Check it out!
Are Keyboard Wrist Pads Required?
Yes, unquestionably. At the very least, the wrist rest should be immediately accessible.
The location of your hands and wrists is essential. If your wrists are resting at an angle or along the desk's edge, you need a keyboard wrist pad to bring them to a neutral position.
It is crucial to remember that keyboard wrist pads can help relieve neck and shoulder discomfort and strain.
What to Consider When Purchasing a Keyboard Wrist Pad?
Material
The material of the wrist rest impacts the level of comfort, the degree of support, and the positioning of your wrists, all of which rely on your preferences. Many goods use fabric-covered soft memory foam cushioning. Others utilize a cooler, squishier gel composition within a plastic-like smooth surface. Rarely you will see wrist rests with leather or wooden surfaces. It typically boils down to testing a product and determining how it feels.
Size And Shape
Because a wrist rest should direct your body into a particular position, its size and design are functionally significant. A flatter wrist rest may place your hands at the ideal height for your keyboard, or you may require a taller one to elevate your wrists. If you use a tiny keyboard or a tenkeyless keyboard that lacks a full number pad, you may prefer a proportionately shorter wrist rest. Most keyboard's with wrist rests are also compatible with laptops; however, others are intended as a pair of square pads to be put directly on your laptop's surface.
Durability
It may be difficult to determine the durability or longevity of a wrist rest, but in general, you will spend more on higher-quality construction and materials. Foam can shrink and flatten, while gel pillows can be pierced. Others external surfaces are simpler to keep and clean than others, and some may have reinforced stitching on their covers. Wooden wrist rests are the most durable available, at the cost of softness.
Top-Rated Keyboard Wrist Pads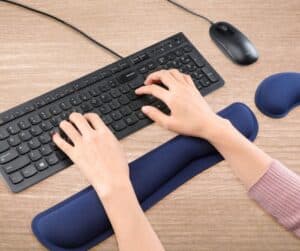 Gimars Wrist Pad for Keyboard
Memory foam is soft and comfy.
Includes a mouse wrist rest.
Basic design.
It is not surprising that the ergonomic wrist rest for keyboards from Gimars is a popular option because it provides a superb balance between quality and price. It is long enough to maintain your hands in a relaxed, natural position while fitting any full-size or portable keyboard.
The wrists are adequately supported and cushioned by the memory foam substance, which gradually takes on the shape it had before the hands were withdrawn. The wrist rest won't move around on your desk thanks to a rough anti-slip gel coating on the bottom, and there are also some little circular stickers included for added stability.
Complementing the product's value is the included mouse's with wrist rest pads. If you use a mouse with your computer, this additional accessory is made from the same supple, breathable fabric.
Redragon Wrist Rest Keyboard
The cushion is washable and simple to maintain.
Goldilocks firmness; neither either soft or overly hard.
The stitching might be improved.
Liable to slip.
The Redragon Keyboard Wrist Rest is an easy choice if you're looking for a wrist rest for keyboard that stresses longevity, versatility, and durability. It consistently adjusts to the needs of the job and gaming. The firmness level of the memory foam inside is gentle to medium. The Redragon wrist rest keyboard may somewhat adjust to your postures thanks to this excellent function.
It is significant because it releases pressure from your wrists, which is important if you have wrist problems. For durability, the Redragon Keyboard Wrist Rest features a water-resistant exterior.
However, if this wrist pad for keyboard has absorbed a great deal of dirt and grime, it is machine-washable.
Razer Ergonomic Keyboard Wrist Pad
A slanted slope provides superior wrist support.
Has a cushion of plush leatherette and memory foam.
The frame should be reduced in size.
Some may find the cushion overly rigid.
The Razer Ergonomic Keyboard Wrist Pad is an exquisite blend of performance, comfort, and style. It's precisely what every gamer needs, particularly if their gaming is frenetic and energetic. It begins with a soft leatherette cushion including memory foam.
The Razor Ergonomic Wrist Rest lives up to its moniker by conforming to the angle of your keyboard. It offers a pleasant atmosphere that significantly decreases tiredness and wrist strain. In addition, its anti-slip rubber soles are an absolute must for intense gaming sessions.
In addition, the Razer Ergonomic Wrist Rest is available in all kinds of variety of sizes and designs, including a full-size, tiny keyboard, mouse, tenkeyless, and cooling memory foam.
HyperX Keyboard Wrist Pad
Memory foam and cooling gel together.
Strong anti-fraying stitching.
Reasonable in cost.
The fabric covering might shift.
Users of PCs must meet a wide range of needs, and comfort and ergonomics might be just as crucial when playing games on the keyboard as they are when typing. The HyperX version, which is well-known for its gaming peripherals, has a keyboard layout made especially for gamers.
It includes a cooling gel in addition to the cozy memory foam padding to keep your hands from being overheated while playing. Fray-resistant stitching across the outer borders increases durability, and non-slip rubber on the bottom holds it firmly in place on your desk.
Additionally, the HyperX wrist rest has a straightforward design and a reasonable price compared to gaming-specific equipment, which often has flashy aesthetics and expensive prices. These features make it a versatile option for usage at work or around the house in addition to being a unique gaming gadget.
Set of Cushioncare Wrist Rests for Keyboard and Mouse Pad 
Slightly broader to accommodate forearm resting, as well.
Rubber base secures wrist rests.
Have no antiperspirant characteristics.
Incompatibility with left-handed individuals.
The Cushioncare Wrist Rests for Keyboard and Mouse Pad is a good, all-inclusive product that every value shopper can support. The Cushioncare Wrist Rests for Keyboard and Mouse Pad are constructed from soft fabric and memory foam to provide a comfortable atmosphere for your wrists.
One part of the wrist rest is sufficiently broad to accommodate a piece of the forearm. And this comfort extends to the provided mouse pad. The Cushioncare Wrist Rests for Keyboard and Mouse Pad incorporate a rubber base to prevent unwanted slipping, making it suitable for any task.
KLIM Keyboard Wrist Pad
Provides exceptional relief for wrist issues.
Highly resilient materials.
Only available in one size.
If you require and desire absolute simplicity, the KLIM Keyboard Wrist Rest is delighted to serve. KLIM Keyboard Wrist Rest is simply concerned with creating a comfortable environment for your wrists; they make no effort to impress with their glamorous pictures or colors.
The memory foam cushion and outer fabric are both comfortable and soft. It conforms with minimal force and is just stiff enough to alleviate wrist issues.
Not only is the fabric silky, but it also allows the cushion to breathe, providing anti-perspiration capabilities. The non-slip base prevents most wrist rests from curling up.
Conclusion
Pay attention to the product's length while purchasing a keyboard wrist pad, since some are built for a full-sized keyboard while many are made for gaming keyboards without a numeric keypad.
Make sure the product you choose includes anti-slip technology since the last thing you want is for your wrist rest to move about while you're gaming.
If you do not care about the name and wish to save money, even the most inexpensive keyboard wrist pads in our assortment are excellent possibilities.
Please follow and like us: