Here it is! Ryzen has finally arrived in the crowded world of laptops. Acer Swift 3 SF315-41 is a fortunate piece of hardware that can make use of Ryzen 7 2700U.
The Ryzen 7 2700U APU's all-new Radeon RX Vega 10 integrated GPU enables light-to-moderate gaming. This laptop is designed to appeal to those who want consistency from their working computer, appreciate the elegant design of the Swift series, and also want to enjoy some light to moderate gaming.
The Acer Swift 3 SF315-41 is an excellent mid-range laptop that performs admirably for the cost. It includes a sturdy build, a powerful Ryzen 5500U processor, and a 1TB SSD that should make day-to-day tasks simple. Be mindful of the inconsistent keyboard lighting and lackluster aesthetics in contrast to the competitors.
Now let's get into the article to know the reviews of Acer Swift 3 SF315-41.
Overview of Acer Swift 3 SF315-41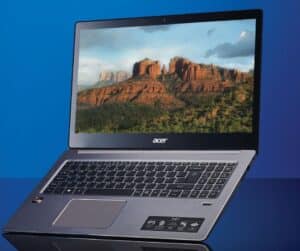 It's been a while since we've had the opportunity to analyze a laptop with an AMD CPU, but now that Acer has released the Acer Swift 3 SF315-41 powered by Ryzen, we're able to examine one.
AMD has struggled in the laptop market over the past few years, but with the debut of Ryzen in 2017, the company hopes to reverse its fortunes.
A large portion of this, though, will depend on its partners packaging Ryzen into high-quality notebooks, which is where Acer comes in.
The unit's silver lid has metallic flecks and a chrome Acer logo when it is closed. This laptop is not overtly fashionable nor showy; rather, the Acer Swift 3 SF315-41 is distinguished by the elegant touches Acer has included.
The well-designed depression on the front of the Acer Swift 3 enables for effortless opening. The Swift 3's 14-inch Full-High-Definition (FHD) display is surrounded by a slim bezel with chrome elements.
Above the display's center, tucked into the bezel, is the conventional 720p HD webcam. The chiclet-style, illuminated keyboard with matte silver keys is positioned in the center of the deck as the user's gaze descends.
Just below the keyboard is a Windows Hello-compatible fingerprint scanner that lets you lock and unlock your laptop with your fingertips. The size of the deck's palm rest is adequate, and the touchpad is positioned somewhat to the left of the keyboard's center.
Design
The industry has advanced significantly over the past few years, and Acer has stepped up its design game with the Swift 3 SF315-41.
It has a whole aluminum body with a mixed shape and compared to any plastic model, it has very high quality and a cool metal to the touch that always adds a sense of elegance.
The Acer Swift 3 SF315-41 features the luxurious appearance of an all-aluminum finish. The brushed but brilliant silverish paint is pleasing to the sight, but as predicted, it draws fingerprints like candy attracting a youngster who is not even hungry. Overall, the laptop appears to be quite strong and shows no symptoms of bending.
Also, we appreciate the device's weight, which is not the lightest at two kilograms, especially when you consider the device's thickness – 18.8 millimeters, but it seems sturdy, which is something you'd want because this laptop will take a lot of abuse in backpacks and purses.
The hinge is rather tight, making it difficult for us to open the lid with a single hand. The 15.6-inch display is not a thin-bezel design, but that is not anticipated in this category. Additionally, the bigger display as a proportion of the total size helps to conceal the bezels.
Display
With the Swift 3's display, Acer has chosen not to provide any new features. It has a 14-inch Full-High-Definition (1920 x 1080) IPS display, which is a reasonable size for a tiny laptop and provides a useful amount of screen real estate.
The Swift 3's IPS display was enough for working and relaxing with Prime Video and Disney+ entertainment. The colors are acceptable and the viewing angles are excellent.
A conventional aspect ratio of 16:9 is also very common, although some may argue that it's a bit out of date given that recent ultrabooks use a squarer 16:10 ratio for applications and web surfing.
Acer Swift 3 SF315-41: Performance
After putting the Acer Swift 3 SF315-41 through a battery of benchmark tests for its CPU, GPU, and battery, we are glad to report that it outperforms its predecessor.
The Acer Swift 3 has few flaws when it comes to video playback and basic functionality. Swift 3 ran the famously resource-intensive Google Chrome with a dozen tabs open without a hitch.
For a device with 8GB of RAM, the Swift 3 was surprisingly adept at multimedia content creation. Loading Photoshop and performing basic picture editing with a dozen or so open files was quite trouble-free.
PWM (Screen Flickering)
Pulse-width modulation (PWM) is a simple method for adjusting the brightness of a display. When you reduce the brightness, the backlight is not dimmed, but rather switched off and on by electronics at a frequency that is imperceptible to the human eye.
In these light impulses, the ratio of light-to-no-light duration fluctuates while the brightness remains constant, which is detrimental to the eyes.
Acer Swift 3 SF315-41 high screen light mode is not PW-modulated. However, the high frequency of pulsations reduces the harmful effect significantly when present.
Acer Swift 3 SF315-41: Sound
The Acer Swift 3 SF315-41 received some points for its audio quality. The audio is distinct and has depth in the lower frequency levels.
It's not a bass thumper, but the two speakers perform an excellent job of producing distinct bass, midrange, and treble notes. The volume of the speakers is sufficient to hear clearly in a room of average size.
Connectivity
On the left side of the Swift 3 is a USB-C connector that includes Thunderbolt 4, DisplayPort Alternate Mode, and up to 65 watts of power supply (enough to power a portable computer). This is the best feature of a laptop on this price list.
It may be used to connect a display, power the laptop, and swiftly transfer data to external solid-state storage.
Two USB-A 3.2 Gen 1 ports, one on each side of the laptop, are linked with USB-C. Complete the wired connectivity with a full-sized HDMI connector and a combination audio jack. This indicates that Ethernet is absent, however, Ethernet can still be used via a USB-C hub.
While the Acer Swift 3 SF315-41 may be charged through USB-C, Acer includes a compact 65-watt power brick with a barrel plug. A typical laptop component, the wireless adapter, provides Wi-Fi 6 and Bluetooth 5.0. When in the same room with a Wi-Fi 6 router, it achieves speeds of more than 600Mbps.
Does it worth Gaming?
The Acer Swift 3 SF315-41 is a mid-range laptop that offers a balance of performance and affordability. It is powered by an AMD Ryzen 5 2500U processor, which provides strong performance for everyday tasks and some light gaming. The laptop also comes with 8GB of RAM and a 256GB solid-state drive, which provides fast boot and load times.
One of the key features of the Acer Swift 3 SF315-41 is its 15.6-inch Full HD IPS display. The IPS panel provides wide viewing angles and accurate color reproduction, making it a great choice for streaming media or working with photos and videos. Additionally, the laptop has a sleek and lightweight design, making it easy to take on the go.
The laptop also has a wide range of ports and connectivity options, including USB-C, USB 3.0, HDMI, and an SD card reader. The built-in fingerprint reader provides an added layer of security and convenience, allowing you to quickly and easily log in to your laptop.
In terms of battery life, the Acer Swift 3 SF315-41 offers decent performance, with a battery life of up to 8 hours. This allows you to work or play for extended periods without needing to plug in.
In terms of graphics, the laptop has an integrated AMD Radeon Vega 8 graphics card. It is not a dedicated graphics card, so it will not be able to handle the most demanding games, but it can handle some less demanding games and other graphics-intensive tasks.
The Acer Swift 3 SF315-41 also comes with a backlit keyboard, which is a nice touch and can make typing in dimly lit environments more comfortable.
Overall, the Acer Swift 3 SF315-41 is a solid choice for anyone looking for a mid-range laptop that offers a balance of performance, portability, and affordability. It is a great option for everyday tasks, streaming media, and some light gaming. The laptop's sleek design, fast SSD, and decent battery life make it an attractive option for anyone looking for a versatile laptop that can handle a variety of tasks.
However, it is worth noting that the laptop does have some limitations, such as the integrated graphics card, which may not be sufficient for heavy gaming or other graphics-intensive tasks. Additionally, the laptop's build quality and materials are not top-of-the-line, which is to be expected for a laptop in this price range.
Overall, whether the Acer Swift 3 SF315-41 is worth it or not, depends on your specific needs and priorities. If you're looking for a solid mid-range laptop that offers a balance of performance, portability, and affordability, the Acer Swift 3 SF315-41 is definitely worth considering.
Final Thoughts
The Acer 41 Swift 3 appears to be a superb mid-range laptop, with its robust six-core CPU and quick 1TB SSD making it a productive powerhouse.
It appears like Acer has spared no expense with this updated edition of their venerable laptop, and if you need a versatile worker, you should consider purchasing it. The Swift 3 from Acer is all about the display.
The Acer Swift 3 SF315-41 has an excellent 1080p display with a good contrast ratio and precise color reproduction. It is perfect for multitasking, movie viewing, and streaming television.
It is worth mentioning that the price of this laptop may be a bit higher than what some individuals are prepared to pay.
FAQs
Is Acer Swift 3 a good buy?
The Acer Swift 3 SF315 41 is one of the most portable laptops now available due to its small size and low weight, making it ideal for college students and freelancers who are often on the move.
How long does an Acer Swift Laptop last?
Despite having a smaller-than-average 48 hours battery, the upgraded Ryzen 7 4700U in the Acer Swift 3 SF315 41 manages to deliver a good battery life. This is a huge victory for AMD, whose earlier Ryzen APUs' battery life was one of their major weaknesses.
With around 1.0 Watts of idle power consumption with the display off, they are no longer lagging behind the competition.
Does Acer Swift 3 have touchscreen?
When surfing web pages and documents, the 16:9 aspect ratio touchscreen is responsive. Windows 10 motions, such as two-finger swipes and three-finger taps, may be executed proficiently on the surface due to their smoothness. When pressing the right or left mouse button, the bottom corners provide a solid, clicky response. 
Please follow and like us: