The new Razer Naga Pro is the replacement for the Trinity of earlier Naga models and a slight improvement over all the Naga line has stood for up to this point. Along with the adjustable side plate, you also get three connectivity choices, two of which are wireless so you can use the latest mouse technology from Razer, the Naga wireless.
With software that enables users to totally customize their experiences, you now have a gaming mouse that can be used for nearly anything and however you wish, whether it be as a wireless Naga or tethered Naga. Even while the Razer Naga Pro has a few small drawbacks, such as its high $150 price tag, it is still a fantastic product.
Design of Razer Naga Pro
The Razer Naga Pro's basic design is similar to that of the Naga Trinity, the gaming mouse that came before it. This right-handed mouse supports the 12-button MMO layout with a steeper left side slope. A tactile scroll and textured scroll wheel are located in the center (there is no option to modify it to a free scroll). Compared to the Naga Trinity, the DPI sensitivity buttons are farther back and more recessed. This is advantageous since it makes you less inclined to strike them unless you are quite convinced that you will. The entire device is covered in matte plastic that has a light texture and a premium feel.
The 6-foot cable that comes with the bundle is braided—specifically, it's Speedflex—which gives games more versatility. The Naga Pro appears to be exactly like its wired predecessor once the cord is inserted.
One of the few buttons on the mouse that cannot be altered in its software is the profile switcher. Another button on the mouse switches between wired, 2.4 GHz HyperSpeed dongle (USB Type-A), and Bluetooth modes.
It is not the only producer of MMO gaming mouse, and button distinction is a problem with all of them: It can be challenging to press the right button when there are twelve of them under your thumb. On this, Razer utterly falls short. Although you can feel your thumb resting on the 5 and 8 keys and there is some difference in the angle and height of the Razer Naga Pro's buttons, this should be more evident. While Corsair's Scimitar RGB Elite has textured surfaces on some columns, the Logitech G600 offers significantly more angle adjustability.
It is experimenting with a side plate that has six buttons. The Naga Hex got its start with a six-button layout shaped like a hex; hence, the name. Later variations, like the Naga Trinity, had seven buttons arranged in a circle. The Naga Pro features two rows of three buttons, each with a highly noticeable depth, and a return to a six-button layout in a whole new configuration. There is no other mouse from this brand that has six side-mounted buttons, and the G604 or G602 appears to have a very similar design. I'm not criticizing because it's really simple to tell which button is whose. The best artists are crooks.
The Razer Naga Pro has a side panel with two buttons, which is its final feature. Here, there isn't much to say. A textured thumb pad is placed above two sizable buttons. When you're at your most productive, it's there to support you.
Razer Naga Pro Battery Life
With the Razer Naga Pro, the company guarantees a battery life of up to 150 hours while connected via Bluetooth and without RGB lighting. Using a wifi dongle reduces this time to 100 hours. During the testing period, I was unable to totally drain the mouse, but with the RGB lighting at its brightest and the HyperSpeed wireless Naga mode activated, I saw a power drain of about 3% per hour, which, if the rate is maintained, translates to about 33 hours of battery life.
Razer Naga Pro Software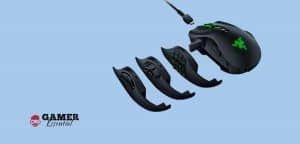 Over time, Razer Synapse has developed into a very complex customizing tool. The Razer Naga Pro becomes a powerful gadget thanks to a mouse module in Synapse 3.5, the most recent version of the software.
All of the mouse's buttons, excluding the profile button, connection switch, and left-click unless you give the left-click function to another button, can be programmed using the Razer Naga Pro's customize page. These buttons can be programmed to do a wide range of actions, including mouse and keyboard operations, Windows shortcuts, extra device capabilities, multimedia controls, the opening of applications or websites, and macros. You may also set up a Hypershift button, which allows you to flip between button bindings by pressing a single custom button.
You may learn more about these gaming mice's performance improvements by reading on. The sensitivity settings stated earlier, as well as the polling rate, mouse surface calibration, low-power mode, power-saving options, and RGB lighting effects, can all be changed. These can be utilized in addition to the programmable buttons in gaming profiles.
These gaming mice have individual button bindings for each panel, and each panel's profile contains pages. The panels are hot-swappable, as I already explained, and I wanted to underline that you may switch between them at any time. The mouse will automatically travel to the page of a side panel when one is connected to it. Therefore, while button 1 on the six-button panel might serve one purpose, button 1 on the twelve-button panel might have an entirely other function. You can accomplish this, though I'm not sure why you would want to.
My favorite PC accessory program, It's Synapse, is simply wonderful software from beginning to end. With the inclusion of numerous buttons and the capability to flip between panels, it only became better.
Razer Naga Pro Conclusion
The Razer Naga Pro gaming mice are a deserving replacement for the whole Naga line. You can switch to a less assertive 12-button arrangement when you're not using Photoshop or playing an MMO. You can have two buttons if that's all you need for easy online browsing. The Naga Pro is for you if you think that having six programmable buttons would improve your gaming experience.
A Razer Naga wireless MMO mouse costs an outrageous $150, though. The more affordable Naga Trinity can carry out the most of this mouse's tasks in a wired arrangement if you don't need wireless capabilities. For the Naga Pro, you are paying for Razer's engineering prowess. But when used in conjunction with its outstanding Synapse software, you have a mouse that can do practically anything. It's very challenging to reject that.
FAQs
How is Razer Naga Pro V2?
Overall Razer Naga Pro v2 is a superb mouse, with an easily adjustable DPI and perfect design for gamers.
How to change Razer Naga Pro dpi?
Examine the DPI buttons located behind the scroll wheel.
Increase, decrease, or cycle through the DPI stages with your mouse's sensitivity buttons.
Please follow and like us: