The new Razer Naga Pro is the successor to the Trinity of previous Naga models and a modest refinement of all the Naga line has represented thus far. Along with the interchangeable side plate, you get three connectivity options, two of which are wireless letting you enjoy Razer Naga wireless, and it's latest mouse technology.
As a result, you have a gaming mouse that can be used for practically anything and however you like whether it be as wireless Naga or wired Naga, backed up by software that allows users to completely tailor their experience. Even though there are some minor problems with Razer Naga Pro, such as the it's hefty $150 price tag still the Naga Pro is a terrific offering.
Design of Razer Naga Pro
The Razer Naga Pro's basic form is similar to that of its immediate predecessor of gaming mice, the Naga Trinity. This is a right-handed mouse with a steeper left side slope to support the 12-button MMO setup. In the centre, there is a textured scroll wheel with a tactile scroll (there is no option to modify it to a free scroll). The DPI sensitivity buttons are located further back, and are more recessed than the ones found on the Naga Trinity. This means you're less likely to strike them unless you're really certain you're going to, which is a good thing. The entire device is wrapped in a slightly textured matte plastic that gives it a premium feel.
The bundled 6-foot cable is braided, specifically it's Speedflex, which provides additional flexibility to gaming. Once the cable is connected, the Naga Pro appears to be identical to its wired predecessor.
Among those buttons are a profile switcher, one of the few that cannot be customized in it's software, and a switch that toggles the mouse between wired and 2.4 GHz HyperSpeed dongle (USB Type-A) or Bluetooth modes.
it's not the only manufacturer of MMO gaming mice, and a common issue with all of them is button differentiation: With twelve buttons under your thumb, it can be difficult to press the correct one. Razer completely misses the mark on this one. There is some distinction in the angle and height of the buttons in Razer Naga Pro, and you can feel your thumb resting on the 5 and 8 keys, but this should be more obvious. The Logitech G600 offers far more angle variation, whilst Corsair's Scimitar RGB Elite features textured surfaces on certain columns.
it's experimenting with a six-button side plate. The Naga Hex began with a six-button layout in the shape of a hex, thus the name. Later variants, including the Naga Trinity, used a circular configuration with seven buttons. The Naga Pro returns to a six-button arrangement, but with an entirely different layout; there are two rows of three buttons, each with a very obvious depth. There is no other mouse with six side-mounted buttons in this form from this company, and the design appears to be almost identical to the Logitech G604 or G602. I'm not criticizing, as it's quite easy to distinguish between each button. Great artists are thieves.
Finally, in Razer Naga Pro there is a side panel with two buttons. There is little to say here. Two sizeable buttons are located over a textured thumb pad. It's there for those times when you're in a state of pure productivity.
Razer Naga Pro Battery Life
With Razer Naga Pro the company promises a battery life of up to 150 hours without RGB lighting and while connected via Bluetooth. When a wifi dongle is used, this amount reduces to 100 hours. I was unable to completely drain the mouse during the evaluation period, but with RGB lighting at maximum brightness and HyperSpeed wireless Naga mode enabled, I saw a power drain of around 3% per hour, which equates to approximately 33 hours of battery life assuming the pace is sustained.
Razer Naga Pro Software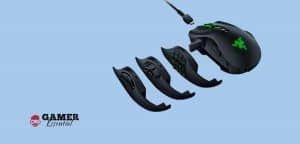 Razer Synapse has evolved into a fairly sophisticated customization suite over the years. The latest version of Synapse, Synapse 3.5, includes a mouse module that transforms the Razer Naga Pro into a beast of a device.
The customize page of Razer Naga Pro enables you to program all of the mouse's buttons except the profile button, connection switch, and left-click unless you assign the left click function to another button. You can assign these buttons to do a variety of tasks, including mouse and keyboard functions, Windows shortcuts, additional device features, multimedia controls, application or website launches, and macros. Additionally, you can configure a Hypershift button, which enables you to switch between button bindings with the push of a single user-defined button.
If you delve further, you'll discover a slew of performance enhancements as well in these gaming mice. There are the aforementioned sensitivity settings, as well as the ability to adjust the polling rate, mouse surface calibration, low-power mode, and power-saving choices, and RGB lighting effects. These can be used in conjunction with the programmable buttons in profiles for gaming.
Each panel of these gaming mice has its own set of button bindings, with a profile containing pages for each panel. I previously mentioned that the panels are hot-swappable, and I wanted to emphasize that you may switch between them at any time. When a side panel is attached to the mouse, the mouse automatically moves to that panel's page. Thus, button 1 on the twelve-button panel may do one function, while button 1 on the six-button panel could perform a completely other purpose. I'm not sure why you'd want to do this, but you can.
It's synapse is simply fantastic software from start to finish and is definitely my favorite PC accessory software. It only grew better with the addition of a slew of buttons and the ability to switch between panels.
Razer Naga Pro Conclusion
The Razer Naga Pro gaming mice is a worthy successor to the whole Naga series. When you're not playing an MMO or working with Photoshop, you can switch to a less aggressive 12-button layout. If all you desire are two buttons for convenient web browsing, you can have them. If you believe that having six customizable buttons would enhance your gaming experience, the Naga Pro is for you.
However, $150 is an exorbitant sum to pay for a Razer Naga wireless MMO mouse. If you don't want wireless functionality, the more cheap Naga Trinity performs most of the functions of this mouse in a wired configuration. You're paying for Razer's engineering wizardry for the Naga Pro. However, when combined with it's excellent Synapse software, you have a mouse capable of almost anything. That is quite difficult to resist.
FAQs
How is Razer Naga Pro V2?
Overall Razer Naga Pro v2 is a superb mouse, with an easily adjustable DPI and perfect design for gamers.
How to change Razer Naga Pro dpi?
Examine the DPI buttons located behind the scroll wheel.
Increase, decrease, or cycle through the DPI stages with your mouse's sensitivity buttons.
Please follow and like us: