Everyone is hyped for the Guilty Gear Strive release date approaching. Testament is a popular Death-like character in the Guilty Gear Strive series, who first appeared as a boss character in the first game in 1998 and has made frequent appearances ever since — albeit rarely on PC.
Essentially, Testament is now available as the anime game's fifth new DLC fighter in Guilty Gear Strive. They may be purchased separately or as part of the Season 1 pass, which includes five new characters. Testament is presumably the final element of this pass. Arc System Works has already confirmed a Season 2 pass, and there may be more to come — Street Fighter V, for example, has numerous seasons.
The final first-season character for Strive has been revealed, and it's not who most players expected. Testament, the gothic scythe-wielding masked vigilante, is back with a new vest, ruffled jabot, and top hat. The strikes of "The Elegant Grim Reaper," like previous iterations, have a vast range and are now backed up by demon familiars.
Testament hasn't been a part of a Guilty Gear Strive lineup since frightening opponents in Guilty Gear Accent Core Plus R, but it'll be interesting to see if they'll be as dominant in Strive.
Guilty Gear Strive has a final character of DLC that is only a few days away from being released in Testament, and we now fully know what will be included.
The patch notes for Guilty Gear Strive's next major update, Version 1.16, have been posted by Arc System Works.
Aside from the new fighter, the most important update to the game appears to be the reintroduction of Digital Figure Mode, which allows players to pose for their favorite fighters and build in-game dioramas.
There are no character-specific adjustments, which isn't surprising given ArcSys' vow that Strive Season 2 will include "extensive balance tuning."
They also promised to reduce login and load times in the game, and it appears like they're already ahead of schedule on that front.
On March 28, the Guilty Gear Strive Version 1.16 update will be published with the Testament.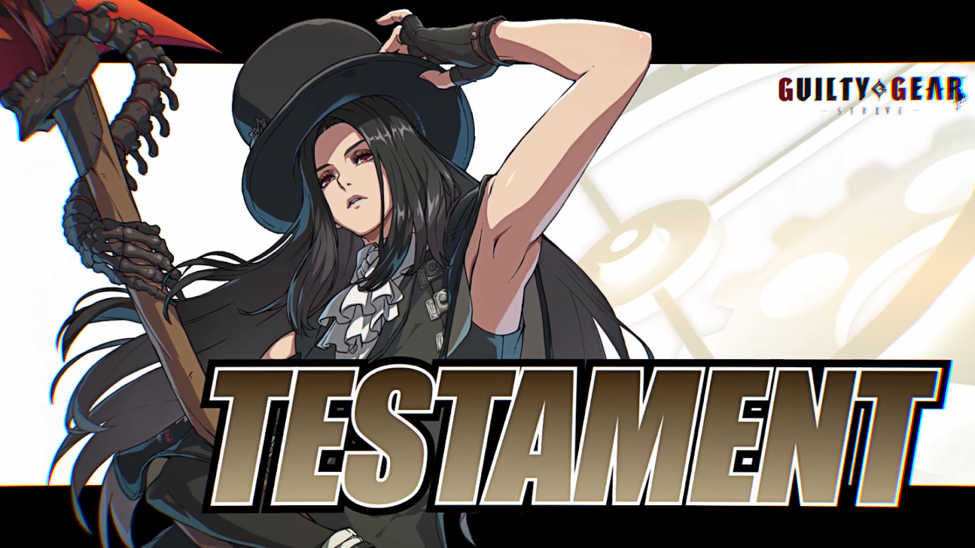 Who Is Testament in Guilty Gear?
Testament debuted as the penultimate boss in the original Guilty Gear on PlayStation 1 in 1998 and was initially a villain plotting to restore Justice. Since then, Testament has been a recurring and iconic character in the series. On the other hand, Testament was not playable in GG Xrd, so this GGST DLC news is a welcome return for long-time series fans. Testament excels in long-range assaults with a scythe and long-range attacks with familiars.
Is It Cross-Platform Play?
On March 31, it will be available for individual purchases for PlayStation 5 and PlayStation 4 users, and on March 28 for PC (Steam) users. The Presidential Residence of the United States is featured on this stage, which is a major stage in the Story Mode. During the events of the story, it experiences major damage and is currently undergoing repair; however, it has already been restored to its former role as the center of the government. We are super happy for the Guilty Gear Strive Testament Release Date having this feature.
What's New?
Testament will be accompanied by the debut of a new stage, White House Reborn. Following the events of Strive's story mode, the Presidential Residence of the United States is being reconstructed and "has already been restored to its position as the hub of the administration."
An addition to the Story Mode will be delivered before the end of April and will be linked with the season pass's final character release. This additional narrative experience, dubbed "Another Story," will center on characters that did not appear in the original Story Mode.
One of the more intriguing aspects of Guilty Gear Strive's Testament is Arc System Works' confirmation that the fighter is non-binary. The game's website (thanks, GamesRadar) now refers to Testament using they/them pronouns. Kayleigh McKee, a trans woman who has also performed in Genshin Impact, Smite, and Hearthstone, is their English voice actor.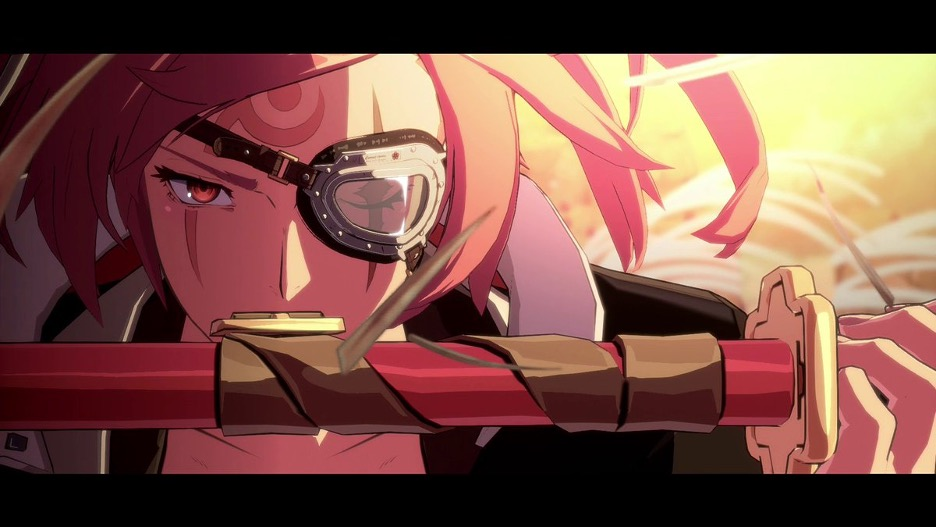 What about the Update Patch?
A free update on March 28 will also include the new mode "Digital Figure." You can freely arrange characters, furniture, effects, and other elements to create unique scenes in it. Also, you can change the expressions and positions of each character, the camera angle, and add filters, as well as share your creations with other gamers online.
Finally, Arc System Works announced that Season 2 of Guilty Gear: Strive will feature four new playable characters, as well as cross-platform play between PlayStation 5, PlayStation 4, and PC. The developer is also working on updates to improve servers and reduce connection time to the server in order to stabilize online gaming.
More Features in the Future
All of the above concludes the season pass for Guilty Gear Strive; however, new content will continue to be added to the game. Arc System Works has announced plans for a second season, with four new characters joining Strive in the future.
At an unspecified point, cross-play across the PlayStation 5, PlayStation 4, and PC versions of Strive will be enabled, along with further server improvements such as faster server connection times and improved network reliability for online modes. Because it's so early, there's no news on when Season 2 will begin, but it's fantastic to know the game will be supported.
Finally, Arc Revo will continue with the reintroduction of the Arc World Tour, a global tournament series that hasn't been active since the outbreak. Guilty Gear Strike will, of course, be the major event, but the upcoming Arc System Works game DNF Duel will also be a part of the series of events.
With the addition of DNF, Nexon, the owner of the Dungeon Fighter Online IP on which the game is based, has agreed to support Arc World Tour 2022. Competitors who win regional World Tour events will be eligible to compete in the World Tour Finals for a share of a $200,000 prize pool ($100,000 for each of the two games).
Who Is Arc System?
Essentially, Arc System Works is one of the firms that will be represented at the Japan Fighting Game Publishers Roundtable. Additionally, Arc System Works revealed that Season 2 of Guilty Gear Strive is in the works, with four new characters joining the roster.
Arc System Works, which is known for creating graphically spectacular combat games, is going all out with its announcements. ASW also announced three new features for Guilty Gear Strive, in addition to Testament and the new season pass.
They feature White House Reborn, a new battle stage that will be included in the Season Pass or may be purchased individually for $1.99. A new Digital Figure Mode, which sounds similar to a Photo Mode, is also available.
Magnificent Features
An adrenaline rush of a fight – Sophisticated game features, including the ambitious new wall-break mechanic, meant to bring out the mind games we've come to expect from fighting games. As you and your opponent clash, the drama heightens!
The most immersive experience yet – This game is brought to life by stunning visuals, such as dynamic effects and character reactions. We've worked hard to bring you the best, right down to the sound and even the quiet moments in between. You can enjoy the thrilling gameplay of the GG series on a whole new level.
Viewers can now sense the battle's severity – Guilty Gear Strive is crammed to the brim with visual components to make the program even more interesting, not just for you but also for others who watch it. It features zoom-ins and slow-motion camera effects, outstanding text visualizations, and top-notch animation quality.
What Is Testament's Gender?
Testament's character design has always been exceedingly effeminate, yet he has been characterized as a male character in the past, such as "Kliff's adoptive son." Further, Testament's transformation into a Gear, however, caused him to become non-binary, according to Arc System Works. The pronoun "they" is used in the press release for his DLC release in GGST.
Visual Kei and Goth Inspirations
Furthermore, Testament's design, like everything else in Guilty Gear, incorporates musical themes. Testament is essentially an allusion to Japanese Visual Kei in their case. It has the appearance of a typical Visual Kei artist.
Visual Kei is a subculture of Japanese music that combines stunning makeup, haircuts, and androgynous features. It's been a prominent style in Japan since the 1980s, thanks to musicians like X Japan and Yoshiki.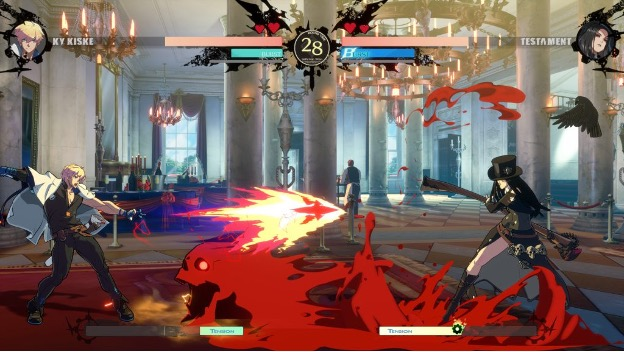 Testament's Story in Guilty Gear Strive
Testament was the adopted son of Kliff Undersn, the head of the Holy Order, a group of warriors that fought against Gears and their leader Justice. On the other hand, Testament was kidnapped by a country and transformed into a Gear, inciting them to hate humans. Kliff had thought his kid was dead for nearly 40 years and hadn't seen him. In human years, Testament is roughly 60 to 70 years old.
On the other hand, Testament was still alive and, like every other Gear, was under Justice's control. Testament was the organizer of a tournament in the first Guilty Gear Strive game, ostensibly to assemble stronger warriors to battle Justice.
The tournament's true objective, however, was to collect blood sacrifices in order to breach Justice's seal and resurrect her. Testament battles protagonist Sol Bad Guy in the tournament's penultimate combat, claiming that only one more sacrifice is necessary. When Sol defeats Testament, he confesses that he intended to use himself as the final sacrifice regardless of the outcome, resulting in the resurrection of Justice in what is currently considered one of the best cutscenes in video game history.
Testament's Redemption
Sol defeats Justice with his Dragon Install gear power at the end of the original game, as it turns out Sol is the initial prototype Gear that cannot be handled by Justice. Testament is still alive and free of thought control in the sequel, Guilty Gear X, although he still despises humans, most notably when they try to track down Justice's innocent daughter, Dizzy. Further, Testament decides to protect Dizzy since he feels like a Guilty Gear trying to make amends for their past transgressions. Thus, Testament is Guilty Gear X's penultimate boss once more.
Find Out More
Testament will be available to play in a few days. Arc System Works released a short video guide for how to effectively fight with them ahead of time. They use a scythe and blood magic in combat and they are best suited for mid to long-range battles.
Some of Testament's movements will leave their opponent in a Stain State, making them vulnerable to an instant follow-up strike. Testament can use the Grave Reaper move to discharge projectiles with their scythe as a blood magic user. These missiles subsequently disintegrate, transforming into a succubus that may be used in further strikes.
Essentially, the assault of Testament Unholy Diver dispatches her crow to attack the opponent, causing Stain State to be inflicted. The crow will attack in the direction of the succubus from Grave Reaper if it is on-screen. They can also use the Possession move to teleport to the succubus' location.
Their aptitude within a medium-range, Arbiter's Sign will track and strike their opponent. It will not hit if they are too near or too far apart. Also, Testament can summon two succubi to launch a barrage of Nostrovia strikes. Testament can launch other separate attacks while Nostrovia is underway.
You can see more of Guilty Gear Strive in the debut trailer, which includes a lot of gameplay, as well as the initial announcement at EVO 2019, an earlier trailer featuring Sol Badguy and Ky Kiske, and a teaser for May. Another trailer revealed Axl Low, with another showcasing more of his gameplay.
Final Words
As for Season Pass owners, the DLC character Testament, and their stage, White House Reborn, will be available on March 28th, while individual DLC will be available on March 31st. Finally, Guilty Gear Strive is now available on Steam for PS4, PS5, and PC, it is also available in offline modes. Keep up with the newest Japanese gaming news and updates!
Please follow and like us: