It has a very well-built and solid feeling to it.
Lightweight.
Does not work well for people with small hands.
The Glorious mouse Model O is a fantastic ultra-light gaming mouse that gives the impression of being very well-built and solid. It has a honeycomb-pattern design, which places it among the lightest mice that we've examined.
This model is exclusively wired and comes with a high-quality cable that is both lightweight and flexible. It has a total of six buttons, two of which are located on the side, and all of them can be easily programmed using the glorious mouse software that comes with it.
The performance of the sensor is also remarkable, featuring a broad CPI range that remains relatively stable regardless of the speed with which the cursor is moved. Additionally, the click latency is very good.
It has an ambidextrous design that makes it very comfortable to hold in either hand and is adaptable to any type of grip. People who have smaller hands may find that the Glorious mouse model O, which is a smaller version that performs similarly to the larger one, is more comfortable to use. However, the Glorious Model O's body is much larger.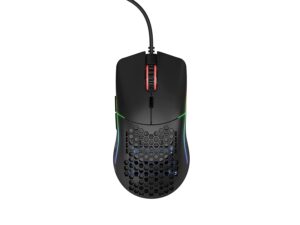 PC Gaming And Glorious Mouse Model O
The Glorious Mouse O Model is a relatively straightforward peripheral device. It is a gaming mouse for the right hand that is wired and has six buttons. Left and right click, a scroll wheel that can be clicked, and a middle button on top that, by default, cycles through your DPI settings can all be found exactly where you'd expect them to be.
Additional buttons for moving forward and backward can be found on the side of the device.
You'll feel perfectly at home if you've ever used a mouse while playing video games, which is pretty much everyone these days. The Glorious Mouse Model O is distinguished by its details in spite of the fact that it has a conventional design.
As soon as I started making use of it, the first thing that stuck out to me was how very light it is. It only weighs 67 grams in the matte finish, and 68 grams if you choose the glossy option. That's a little bit more than half the weight of the Zowie's large mouse for right-handed users, which is called the EC1-A.
When I used it as a palm player, it moved around my mousepad without encountering any resistance. The disparity in weight is probably even more essential for fingertip- and claw-style players. These players might choose competitive mice because of the low weight, which makes it easier to make nuanced movements using only their fingers and wrists.
The Glorious Mouse Model O makes a lot of sacrifices in its design in order to achieve the extremely low weight. It was large enough to support my average-sized hand, measuring 66 millimeters wide by 128 millimeters long by 37.5 millimeters high, but it was surprisingly low-profile in comparison to most right-handed mice.
The base has almost no hump in it, which makes it difficult to find a comfortable fit for your hand. All of the honeycomb cutouts, in particular, should help shave off a few grams.
These are the sorts of sacrifices that are unavoidable when dealing with a "competitive" mouse.
However, the end result is a high performance, and the internals of the mouse allows the Glorious Mouse O to keep up with the freedom that its low weight provides. It is equipped with a Pixart 3360 sensor that supports up to a 1000Hz report rate and goes up to a maximum of 12,000 DPI.
Even though the maximum DPI is not quite as high as what you would find on premium gaming mice, it is still high enough to satisfy the majority of gamers.
When I played games that required quick reflexes, such as Rage 2, as well as games that demanded precision, such as Mordhau, I found that it was incredibly accurate. When combined with the lightweight hardware, the sensor provided a very nimble and responsive sensation.
Glorious Mouse Software Model O 
Getting back to the topic of customization, the Glorious Model O does come with its very own customization software. It only has one screen with expandable boxes, but despite its rudimentary appearance, it is very simple to operate.
You are able to set up and switch between as many as six different DPI settings, create macros, and change the lighting. If you're not a fan of working with customization software, the Model O gives you the ability to do a good deal of fine-tuning without it.
You are able to adjust the lighting and toggle between four different pre-set DPI levels, ranging from 400 all the way up to 3200, by using multi-button hotkeys, which are detailed in a guide that is included with the mouse.
(There is a small light located on the bottom of the mouse that indicates which setting you are currently using.) If you set new ratings using the software, the mouse will remember your settings even if the software is turned off. This indicates that if you so want, you may just put it into automatic mode and forget about it.
Due to the fact that it has a more compact form, the Glorious Mouse Model O is a fantastic option for gamers interested in ultra-light gaming. 
It is not heavy, and the click latency is not too high. Although it can be used with any type of grip, it is important to keep in mind that this mouse is on the larger side; users who have small hands may find that they are more comfortable with the Glorious Mouse Model O- instead.
Glorious Gaming Mouse: Conclusion
There are some people who do not require a mouse that is completely focused on speed and weight, such as the Model O. The difference between 67 grams and a typical mouse weight, such as the 114 grams of the highly rated G502 Lightspeed, may seem like a significant amount; however, both are excellent choices for gaming.
Therefore, it boils down to one's own preferences. This mouse is fantastic, but keep in mind that it was developed for a very particular type of user. If you are one of those people who really needs a light mouse, the Glorious mouse model O is everything you could ever want in a device of this kind. 
FAQs
How to clean a Glorious mouse pad?
Several considerations must be taken into account when cleaning your magnificent mouse pad. Before you begin cleaning your mouse pad, you must ensure that it is disconnected from your computer.
This is essential, as you do not want to accidentally harm the mouse pad when cleaning it. Because you do not want to harm the surface of your mouse pad, be sure to use a mild cleaner on your moist cloth.
After wiping off the surface of your mouse pad, you may dry it with a dry cloth. Once the mouse pad has dried, you may reconnect it to your computer and resume using it. Enjoy your spotless and magnificent mouse pad!
How to use glorious mouse bungee?
A mouse bungee is a simple device designed to prevent the mouse cable from tangling. It is essential equipment for gamers and PC users.
Here are some suggestions for using a mouse bungee:
Plug the mouse bungee into the USB port on your computer.

Place the mouse bungee such that the cable hangs over the edge of your desk.

Place your mouse on the elastic cord and continue using it normally.

When you are through using your mouse, disconnect the USB cable and wrap it around the mouse bungee.

This prevents the cable from becoming knotted.

Repeat steps 1 through 4 as required.
Please follow and like us: