The Logitech G Pro Wireless has been the industry standard for wireless gaming mouse since since it was introduced in 2018. Its sleek, ambidextrous design, exceptional sensor and wireless performance, ideal shape, and strategically placed buttons make it the go-to choice for everyone from serious pro gamers to ardent enthusiasts.
I only joined the hype train last week. Since its release three years ago, Logitech G Pro Wireless has undergone a sensor upgrade and now sits alongside an even more expensive "Logitech G Pro wireless superlight" version that eliminates RGB illumination and makes a few other weight-saving modifications.
Despite one perplexing design choice that feels as if it came from a distant and forgotten past, the Logitech G Pro Wireless is still one of the best wireless gaming mice available, and an excellent choice if you're looking for a truly ambidextrous shape in a market that frequently ignores left-handed mouse users.
Benefits of Wireless Mouse in Gaming
A wireless gaming mouse offers a number of benefits over their wired counterparts. One of the biggest benefits of a wireless gaming mouse is that it eliminates the need for a cord, which can be a major hindrance when trying to move around freely during gameplay. This can be especially beneficial for first-person shooter games, where quick and precise movements are crucial.
Another benefit of a wireless gaming mouse is that it can reduce clutter on your desk. With a wired mouse, you have to deal with the cord getting in the way, which can be a distraction and a nuisance. With a wireless mouse, you don't have to worry about this, and you can have a cleaner, more organized gaming setup.
Wireless gaming mice also offer greater flexibility in terms of placement. With a wired mouse, you are limited to the length of the cord. With a wireless mouse, you can move around your room or even play on the couch without having to worry about being tethered to your computer.
In terms of performance, many wireless gaming mice today offer lag-free connectivity, which means that there is no noticeable delay between moving the mouse and the cursor moving on the screen. This is important for gaming, where fast and accurate movements are crucial.
Wireless gaming mice also often come with additional features, such as customizable buttons and adjustable weights. These can be useful for gaming, as they allow you to tailor the mouse to your specific needs and preferences.
Another benefit is the battery life, many wireless gaming mice have long battery life, which means you don't have to worry about constantly charging or replacing batteries.
Overall, wireless gaming mice offer a number of benefits over wired mice, including greater freedom of movement, less clutter, and more features. They can also offer lag-free performance, which is essential for gaming. If you're looking to upgrade your gaming setup, a wireless gaming mouse may be a great choice.
Gaming Overview Of Logitech G Pro Wireless Mouse
The Logitech G Pro Wireless retails for $129.99 and is occasionally discounted. As of this writing, it is available for slightly more than $100 at a few online merchants, which is an excellent price. Within the box, you'll find the mouse itself, a ridiculous micro-USB cable for charging and connecting the optional dongle extender, a Lightspeed Wireless USB dongle, and some additional buttons and buttons plugs that allow you to select which side buttons to use.
Upgrade to the Logitech G Pro wireless superlight version for $149.99. It lacks RGB and is not entirely ambidextrous due to the lack of side buttons on the right side of the mouse. It does, however, have smoother "Pure" PTFE glides on the bottom and weighs only 62g, compared to the normal model's 80g.
I chose the conventional one because it was less expensive and I'm a sucker for lighting effects. The battery is rated for 48 hours with the light on, which is easily exceeded during my tests. In comparison to the Razer Basilisk Ultimate I reviewed last month, the battery life is incredible. That competitive mouse has significantly more illumination zones, and even with all of them turned on, the mouse will not survive more than a day or two of gaming.
Performance of Logitech G Pro Wireless Mouse
Logitech's HERO sensor wowed me in its original form several years ago, and the 25K DPI version used here and in several of their other contemporary mouse is much better. This is a high-performance powerhouse, and when combined with its great wireless technology, it feels incredible.
The Logitech G Pro Wireless has the same sensation as a wired mouse. I never had a tracking issue or lost movement during a week of hard play. In comparison to several Razer and Roccat mice I have on hand, I prefer the feel of the mouse's tracking. I even noticed an improvement in the G Pro's performance when compared to the others in some extreme scenarios.
To increase the latency to a point where I could feel the difference, I conducted some of my testing on Google's Stadia service. Out of all the mice I own, the G Pro Wireless felt the best in the streaming service. It held its own against the fantastic Roccat Kone Pro Air (albeit the latter has superior glide feet) and easily destroyed the Basilisk Ultimate's gaming experience, which is like to a heavy nightmare in contrast.
While 25,000 DPI is way too high for anyone to utilize, at the 1800 or so DPI that I use for the majority of games, the Logitech G Pro Wireless functions admirably and has enough battery life to last me an entire week without having to plug in the connection.
My only minor quibble is with the mouse wheel's performance while gaming. I haven't experienced any misclicks on the center button or scrolling issues, but the scroll action is just a touch softer than my personal preference. It's not quite as mushy as the G702 I just reviewed, but it's a step softer than the Kone Pro Air and not quite as crisp as the majority of other gaming mice I've used. Even so, I can adapt, and this is not a reason to eschew the mouse.
Comfort of Logitech G Pro Wireless
The G Pro Wireless's ambidextrous shape is not my fave. I've previously favored "Ambi" mice such as the  G305 and Razer Orochi V2, but both of those are far smaller and include subtle comfort grooves.
Logitech's flagship is still comfortable in my hand, although it falls awkwardly between small and large in terms of size while gaming. It's large enough for me to put my entire hand in a palm grip but little enough that I find myself fumbling with my grip throughout longer play sessions rather than settling into one I enjoy.
The form is extremely safe for the majority of grips and hand shapes, but nothing stands out in terms of comfort. The buttons are large and responsive throughout their entirety. The coating feels fine, but it isn't as gripping or as smooth as the Orochi V2 or the Kone Pro Air. The positioning of the side buttons is ideal, and they are easily accessible. I used mine with the right side plugged in and disabled and having slugs placed into the shell never felt strange.
Again, this is nitpicking from the perspective of someone who favors either a smaller ambidextrous or a bigger ergonomic design for gaming. This is still one of the most comfortable and easy-to-grip mouse on the market, and it finds the sweet spot where it should work for the majority of users.
Design Of Logitech G Pro Wireless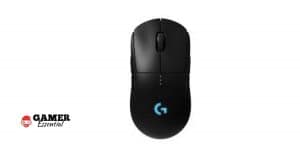 A large part of why I avoided this Logitech G Pro Wireless for so long is its plain design. I prefer that my gaming products have a slight pop. The G Pro Wireless is unpretentious, straightforward, and deceptively easy. Due to its sleek design, it does not appear to be particularly comfortable or performant.
However, the sleek, almost generic-looking design conceals exactly how much incredible engineering went into the undercarriage. It's subtle and ingenious, and the RGB light in the "G" logo glows just as brightly as the Basilisk Ultimate's ludicrous number of lights.
Logitech G Pro Wireless is a modern, natural design that has taken years to perfect…
This then falls short by utilizing it's infamous forked micro-USB cord. When this mouse arrived three years ago, micro USB was already on its way out, and it is currently one of the few flagship designs that do not utilize USB-C.
Even the more recent Superlight variant retains the dated micro-USB interface for gaming. Perhaps it would be prohibitively expensive to alter their cable design or port molds. Whatever the case, it's the one feature on this mouse that feels dated and out of place.
Final Conclusions: Logitech G Pro Wireless
This is my third favorite mouse in my little collection, trailing just the Kone Pro Air and Razer Orochi V2. Both of those mice feature several little features and design choices that contribute to their current appearance. The Logitech G Pro Wireless excels in terms of sheer performance for gaming. It's a mouse designed for precision and speed, and I suppose we had to forego a current USB port in order to get there.
If you're looking for a fully ambidextrous mouse with class-leading performance, this should be at the top of your list, even more so now that it's so significantly reduced. However, it lacks some of its competitors' optional Bluetooth connectivity, pure PTFE feet, USB-C ports, comfort features, and smart illumination. Nonetheless, I see why Logitech G Pro Wireless is the "Default mouse" for so many gamers, and my criticisms are little nitpicking rather than anything actually significant.
I may change my mind if I ever encounter the famed double-clicking issue that some users complain about while gaming, but for the time being, I will surely keep Logitech G Pro Wireless around as the benchmark for what a high-end ambidextrous mouse can be. I hope that this company eventually embraces USB-C (and perhaps even optical switches!) and that other manufacturers recognize that performance can still outperform flashy design.
FAQs
How to charge Logitech G Pro wireless?
Connect one end of the included charging cable to the Micro-USB port on the mouse and the other end to a USB power source. The LED blinks slowly until fully charged, at which point it is continuously illuminated.
How to setup Logitech G Pro wireless mouse?
How to change dpi on Logitech G Pro wireless?
The DPI button is positioned on the mouse's underside to prevent accidental DPI shifts in-game.You can alter the DPI from there.
Please follow and like us: