Retains the spine's natural S-shape.
Extremely durable.
Height Adjustable.
Armrests are padded.
Flexible offers excellent help.
Excellent construction material (recyclable).
A little pricey.
If you're anything like us, you're undoubtedly tired of low-quality chairs that cause back pain and break after six months, costing you hundreds of dollars. However, there is another possibility. Today, we're going to analyse the Herman Miller Sayl – a chair that focuses on comfort and durability.
It's not difficult to see how this chair got its moniker. Suspension bridges inspired the unusual backrest, which was created by renowned designer Yves Béhar. We know what you're thinking: "it appears to be quite frail," correct? Surprisingly, the Herman Miller Sayl delivers more support than the majority of other office chairs available. So, here is a Herman miller Sayl review for you.
Additionally, there is a benefit to this extremely open design. Simply, this chair has phenomenal ventilation. This keeps your body cool, minimises sweating, and thus keeps you as comfortable as possible. Even better, the chair is 93 per cent recyclable, which means it's not just excellent for you, but also for the environment.
We were pleasantly pleased by the breadth of available customization possibilities. The entry-level model retails for roughly $500, and there are various optional upgrades available. With eight different colour options and additional options for the upholstery, you're spoiled for choice.
Sayl by Herman Miller – Design and Specifications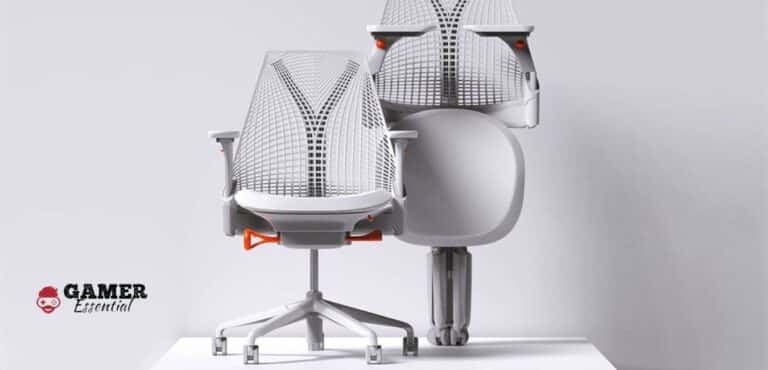 Apart from a couple of the most outrageous gaming seats (see advantages), the Herman Miller Sayl is one of the most eccentric and plain strange-looking chairs available. It is the creation of renowned industrial designer Yves Béhar, who took inspiration from the Golden Gate Bridge in San Francisco. Béhar wondered if such concepts could be applied to an office chair, and thus the Sayl was conceived.
| | |
| --- | --- |
| Herman Miller Sayl Gaming Chair Details | |
| Brand | Herman Miller |
| Material | Sync fabric |
| Designer | Yves Béhar |
| Back | 3D Intelligent elastomer |
| Assembly | Fully Assembled |
| Lifestyle | Eco-friendly |
Its stunning appearance is achieved by the use of a web-like backing comprised of thousands of interlocking elastomer strands. These threads add flexibility to the chair, allowing it to expand and bend in response to your weight. The design gives additional support where it is needed while still enabling your spine to maintain its natural "S" shape. This design promotes greater comfort and eliminates the need for additional lumbar support.
Additionally, the design requires significantly fewer materials, which lowers the price. While it is not inexpensive at $725, it is less than half the price of some of Herman Miller's premier offerings, such as the Embody ($1,495) and Aeron ($1,445). This is still substantially more expensive than many well-reviewed gaming chairs, but Herman Miller's build quality is unmatched by the majority of its competitors. Nonetheless, there are certain ergonomic advantages to gaming chairs, such as quick reclining and higher backrests. However, its design can also contribute to slouching. Neck pillows on headrests are typically not recommended for usage while seated, and their "lumbar support" is frequently merely a branded cushion of wildly different quality.
Herman Miller Sayl – Performance
Herman Miller's entire gaming chair line has an inherent strangeness. The design-focused company took its best-looking chairs and (probably) made them worse, removing a bevvy of customizability choices, adding virtually no functions, and promoting them as "gaming seats." This results in an odd fit for its product. Individuals who enjoy gamer aesthetics are not required to spend $750 on a chair, but discerning shoppers looking for a high-end office chair for gaming may be turned off by the not-so-subtle colour palettes available here.
However, does this matter?
Herman Miller creates incredible chairs. Every day, I sit in an Aeron, and I'm confident it's one of the most comfortable seats I've ever sat in. Gamers, too, deserve that pleasure.
The Sayl is completely self-contained. Herman Miller supplies their chairs completely constructed, ready to roll straight out of their colossal box and onto your desk. Because I find the aesthetics of the majority of gaming seats to be humiliating, I was happy to see how effortlessly the Sayl fit into my minimalist setup. For those seeking a more overt appearance, the other hues would look great next to the RGB glow of a monster battle station.
After tweaking the height, seat depth, and lean tension of the Sayl, I was impressed, but not shocked, by the chair's comfort. The Sayl chair has earned a slew of honours, including the 2010 International Design Awards jury's Product Design of the Year. Having sat in it, I can see why.
I never had any back problems, even after hours on the chair (except, unsurprisingly, after testing the tilt away from the desk). Although the chair does not provide as much lumbar support as the Embody or Aeron, which cost nearly twice as much, I never had any lumbar problems. (If you're prone to back weariness or pain, the Sayl's original non-gaming variant does provide optional lumbar support.)
Without hunching, the forward tilt enables you to lean toward your keyboard or display (see gaming monitor reviews). The tilt angle, on the other hand, is not adjustable – the seat is either flat or inclined forward. And, unfortunately, that forward tilt is very aggressive, giving the impression that you're about to fall off your seat or are bracing yourself against your desk to avoid it. Relaxing the back tightness and lowering the seat height to ensure your feet are planted on the ground will help ease the sensation, but I'd love a couple of additional configuration tilt levels to pick from.
Superior Airflow
Naturally, when it comes to gaming, the game is not done until you've nailed them all. Then, whether it's hours or days, it is what it is. However, how are you going to achieve that score if you can't even sit for an hour in the chair you're now in? Oftentimes, when you spend an extended period of time on a chair, heat accumulates. And the next thing you know, your chair will feel as if it has been sitting in the sun for hours.
This is why chairs must be appropriately fitted with base cushions that allow for adequate airflow. The Herman Miller Sayl chair features a fantastic airflow that lets you to sit for hours without experiencing even the slightest discomfort. Due to the pores in the seat base and the perforations in the back, the chair allows for maximum ventilation. This makes it far more comfortable to work on it for hours on end till the gig is complete.
Conclusion
This modern chair's remarkable Y-tower structure distinguishes it as a strong contender in the chair category. We'd award it a star for its strong support, superior structure, exceptional build quality, and eye-catching design. This chair meets the needs of a wide variety of people and offers practically everything you might want in a comfy seat.
The Herman Miller Sayl gaming chair is an intriguing piece of furniture. It's a stylish chair with an unusual appearance that I enjoy. Nonetheless, even the most subdued options are artistically outlandish. The construction materials are identical to those found in the standard Sayl, except for bright colours. This makes it an excellent option for gamers looking for trendy seating, but it is unlikely to tie your office area together.
FAQs
Is the Herman Miller Sayl worth it?
The Sayl is a well-designed, highly adjustable chair, offered by a well-reputed company in the industry. It is recommended for anyone under 6' tall, who doesn't mind a chair with a low seat back, assuming the price doesn't scare you off.
How to Clean Herman Miller Sayl chair?
With proper and regular care and maintenance, your Herman Miller Sayl Chair will give many years of superior performance and satisfaction. Wash the surface with a soft cloth soaked in mild detergent and warm water. Rinse thoroughly and dry with a soft cloth. Solvents or abrasive kitchen cleaners are not advised to use.
How long will Herman Miller Sayl continue to exist?
A twelve-year warranty is included with the Herman Miller Sayl. That implies that if you purchase it today, it will expire in 2032 — the world will very certainly have changed by then, but your chair will remain the same.
Can the arms of a Sayl chair be removed?
The Sayl Chair by Herman Miller is available with or without arms. If the arms are removed from an armed chair, the 12-year warranty is voided, thus I recommend ordering it in the configuration in which you expect to use it.
Referance Links
https://store.hermanmiller.com/gaming-chairs/sayl-gaming-chair/2521928.html?lang=en_US
Please follow and like us: